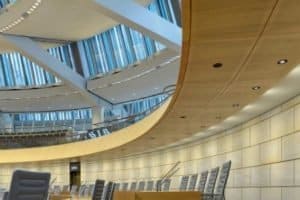 Glass, stone and steel have long been the preferred materials in modern architecture. However, these hard and 'closed on the surface' materials have a serious drawback – they reflect any kind of sound, thus increasing the noise level in indoor areas, which is generally perceived as unpleasant and disturbing.
The Richter Akustik & Design Company has developed the Acoustic-Lightboard®, the perfect surface for sound-sensitive rooms. Through microperforations with up to 320,000 holes per square meter, the sound waves penetrate into the underground, which consists of a close-meshed honeycomb structure, where they are comprehensively "swallowed".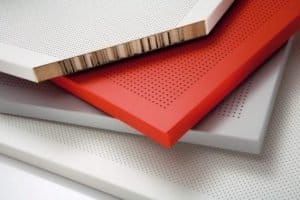 The optimized honeycomb technology ensures excellent sound absorption. At the same time, Acoustic-Lightboard® is dimensionally stable and ultralight. The weight savings compared to comparable materials is around 70 percent. This makes Acoustic-Lightboard® ideal for ceiling and wall coverings, office furniture, mobile partitions in large spaces, etc.
Veneers and laminates of the Acoustic-Lightboard® are provided with high-precision perforations with diameters of 1.5 to 0.5 mm, whereby the front and back may well be perforated differently. The edges are unperforated on request, whose width can also be set individually for most perforations. The interior consists of a close-knit honeycomb structure (made of recycled pulp) in a sturdy frame construction and a black acoustic fleece.
As with its other materials, Richter Akustik & Design is committed to sustainability and environmentally friendly, resource-efficient production. Acoustic-Lightboard® is also optionally available in FSC-certified version.
For further details, click here.