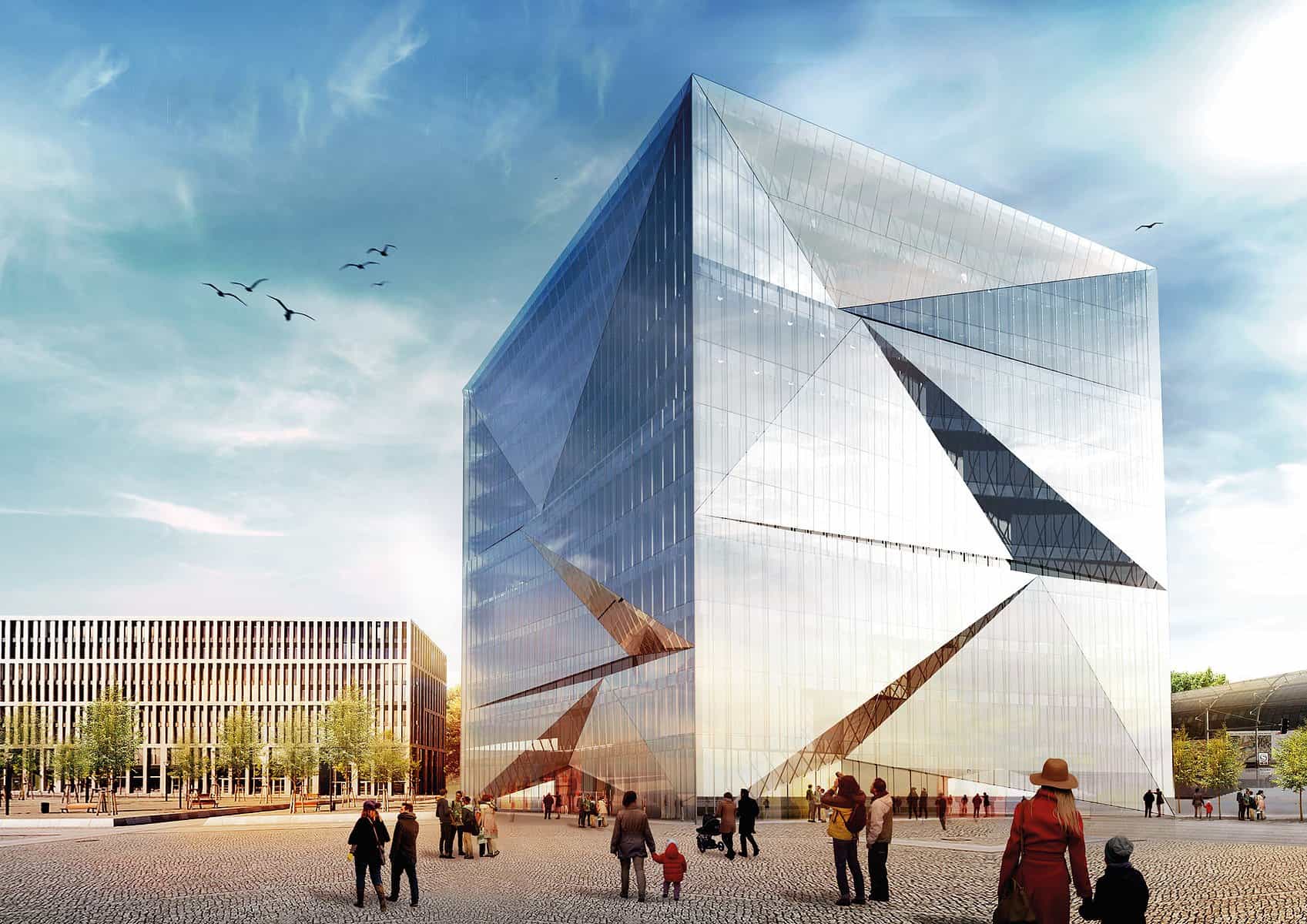 cube berlin will be the sculptural centerpiece of one of the most prominent squares in Berlin. It will occupy a unique and highly prominent location on Washington Platz, with a vast public square fronting Berlin`s new Main Railway Station Lehrter Bahnhof that overlooks the Federal Government Complex across River Spree. The masterplan for Washington Platz defines the solitary cube berlin to be a perfect cubic body measuring 3 X 42,5 meters with five equally important facades including the roof.cube berlin will be the sculptural centerpiece of one of the most prominent squares in Berlin.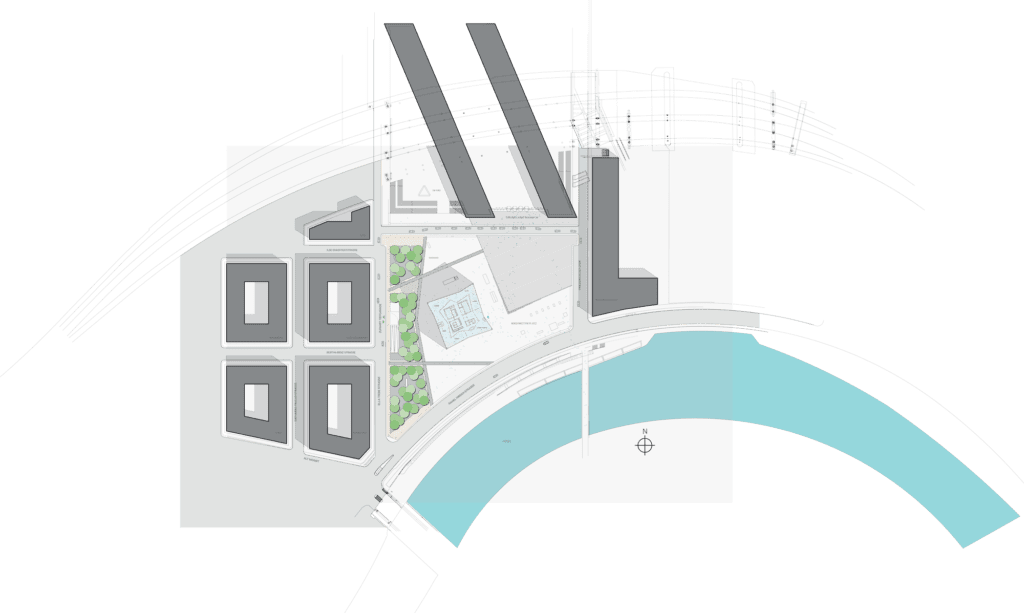 Essential Part of the 'Europa city'
The opening of the new Main Railway Station in 2006 marked the starting point for the development of "Europa city" – an entirely new urban district within Berlin. Washington Platz serves as one of Berlin's main entry points for many and as a key location for new development. cube berlin will ultimately complete the original masterplan for Washington Platz. Unique in the fact that the site has total exposure on all facades – the form became critical to the City of Berlin. It was important that this centerpiece achieved a sculptural quality on its own while not outshining the new Main Railway Station. Hence, 3XN's design envisions a relief-patterned, reflective facade with a kaleidoscopic reading of the surroundings.
Reinterpreting 'Cubic'
The cube berlin was originally a winning competition entry for Deutsche Bahn's new headquarters. The current design for CA Immo looks to meet strategic 21st-century flexibility demands in a multi-tenant building – a total rethinking of the original concept. 3XN's contemporary interpretation for the current design has been to explore new ways for office buildings to engage and enter dialogue with public space and the railway station building, while respecting the given outer cubic dimensions. The result is a sculpted body shaped by pushing the façade inwards to create outside platforms at all levels.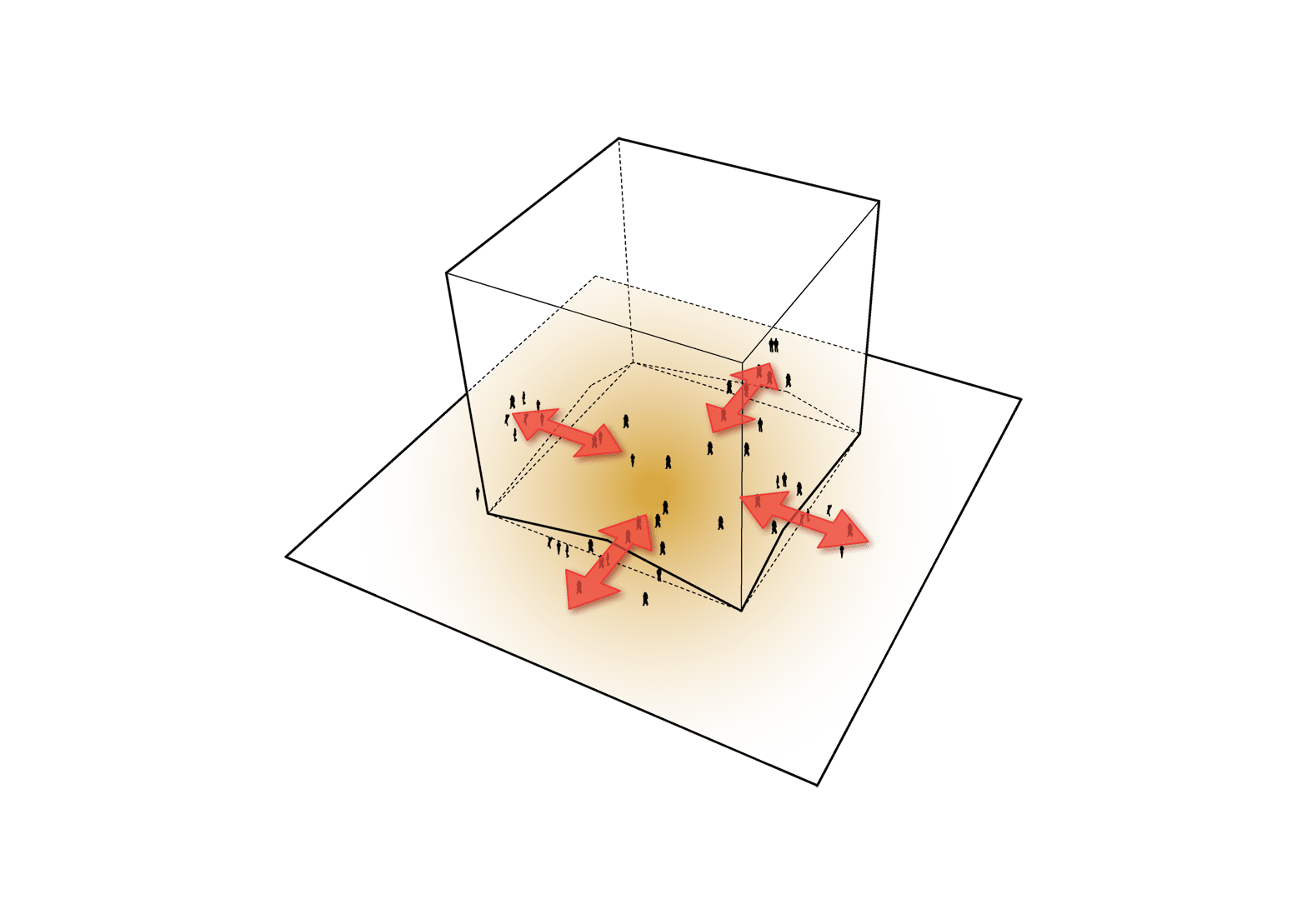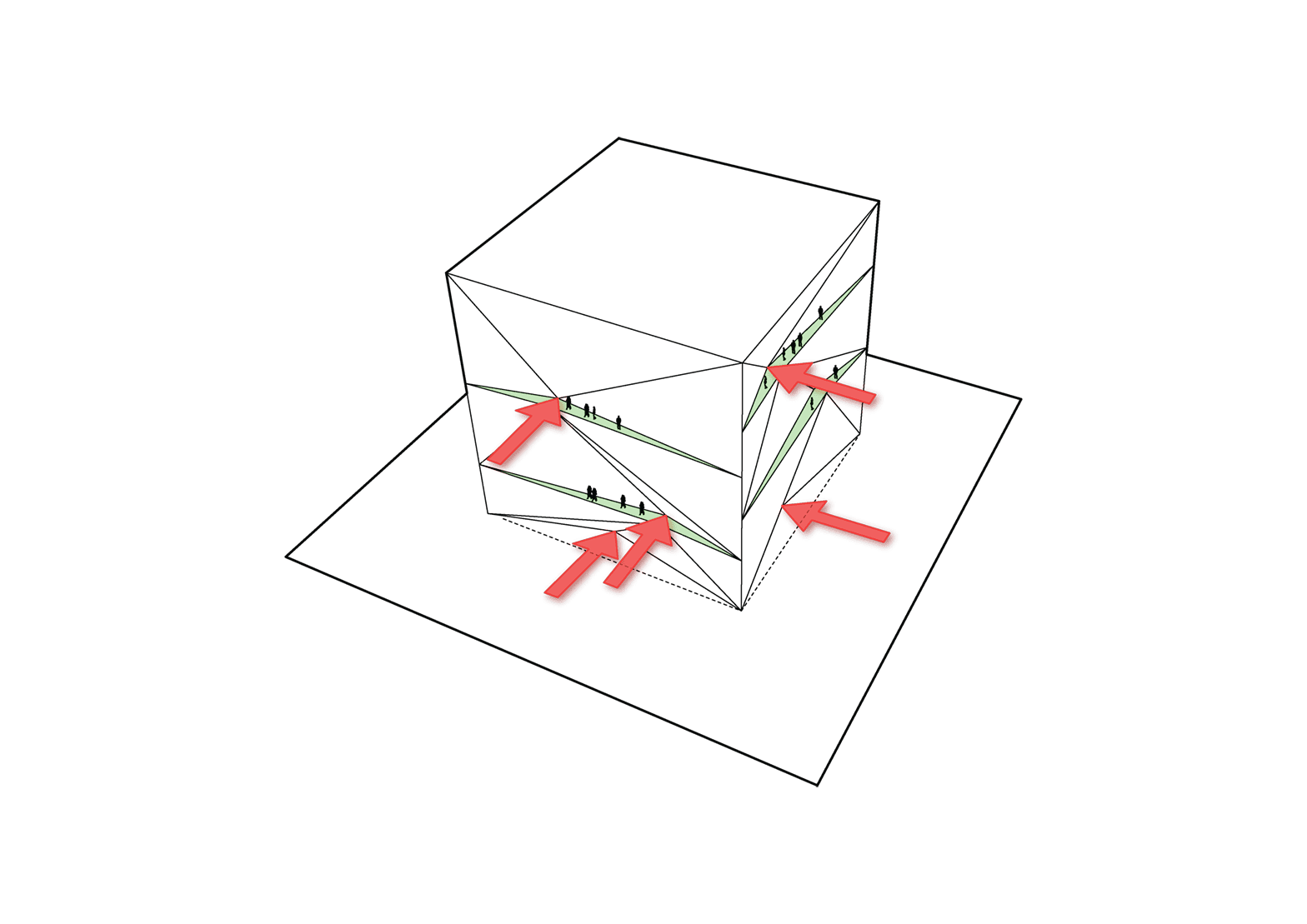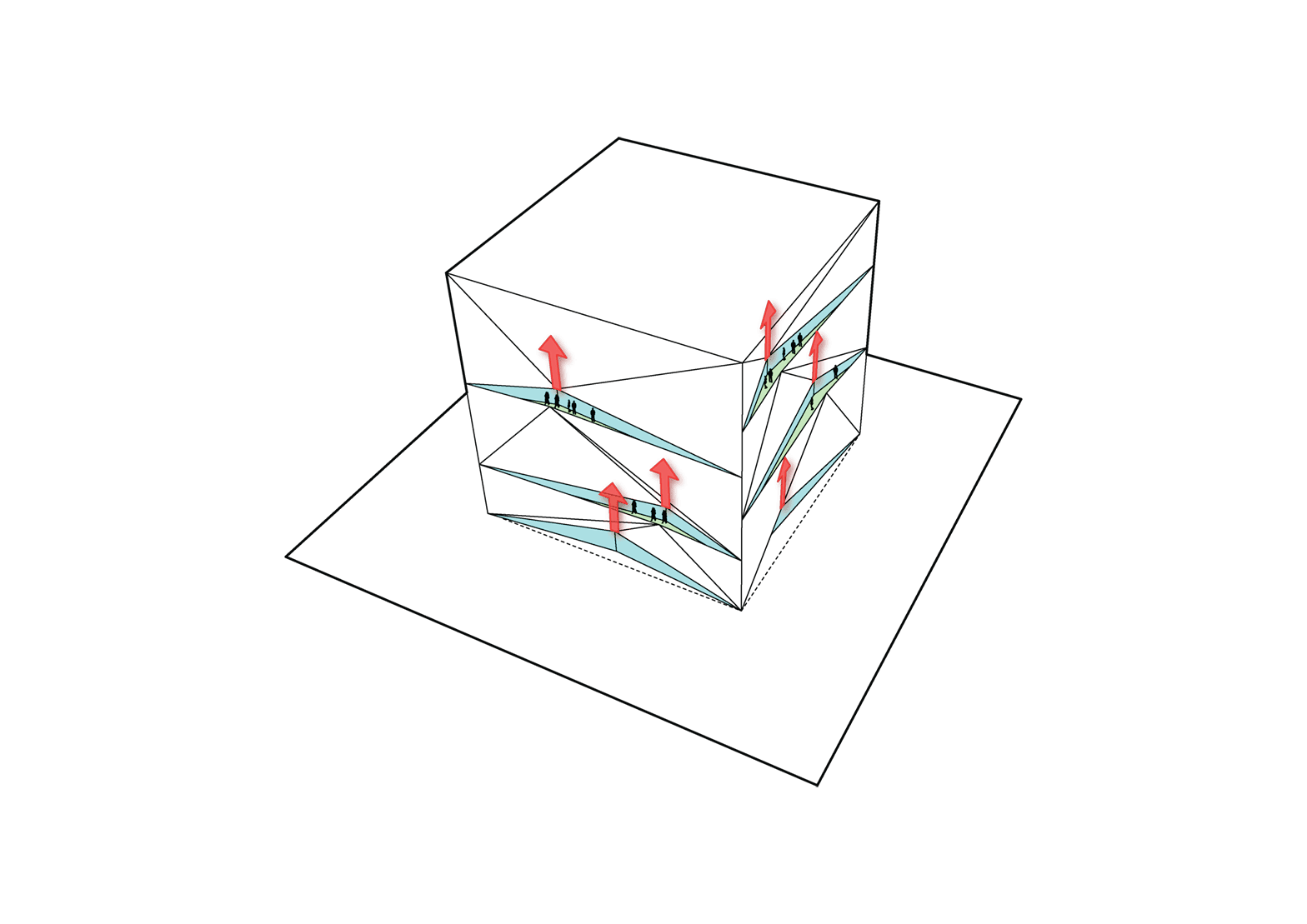 Wrapping concept
With a rich context of surrounding buildings on one side and the generous open space towards the Government Complex – a unique architectural gesture was required. This dynamic facade creates relief in the strict form through a stepped thermal façade beneath an outer glass skin that wraps the building in a triangular pattern.
Access points are introduced via a set of articulated tent-like openings in the outer skin on all four sides and on multiple floors. Thus, the facade opens up with an articulate transition between inside and outside. It provides for an active street level as well as allowing access outside platforms at every level.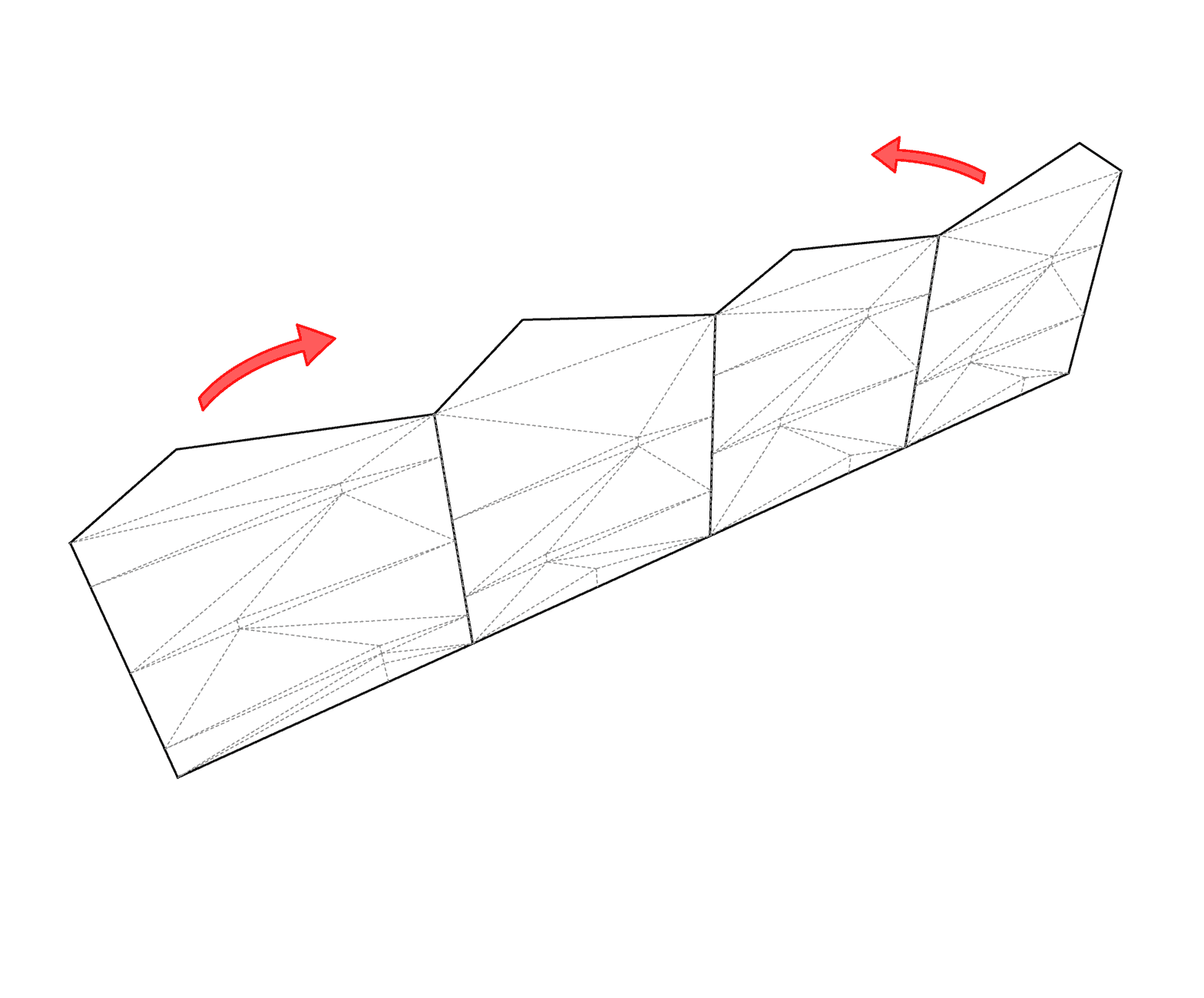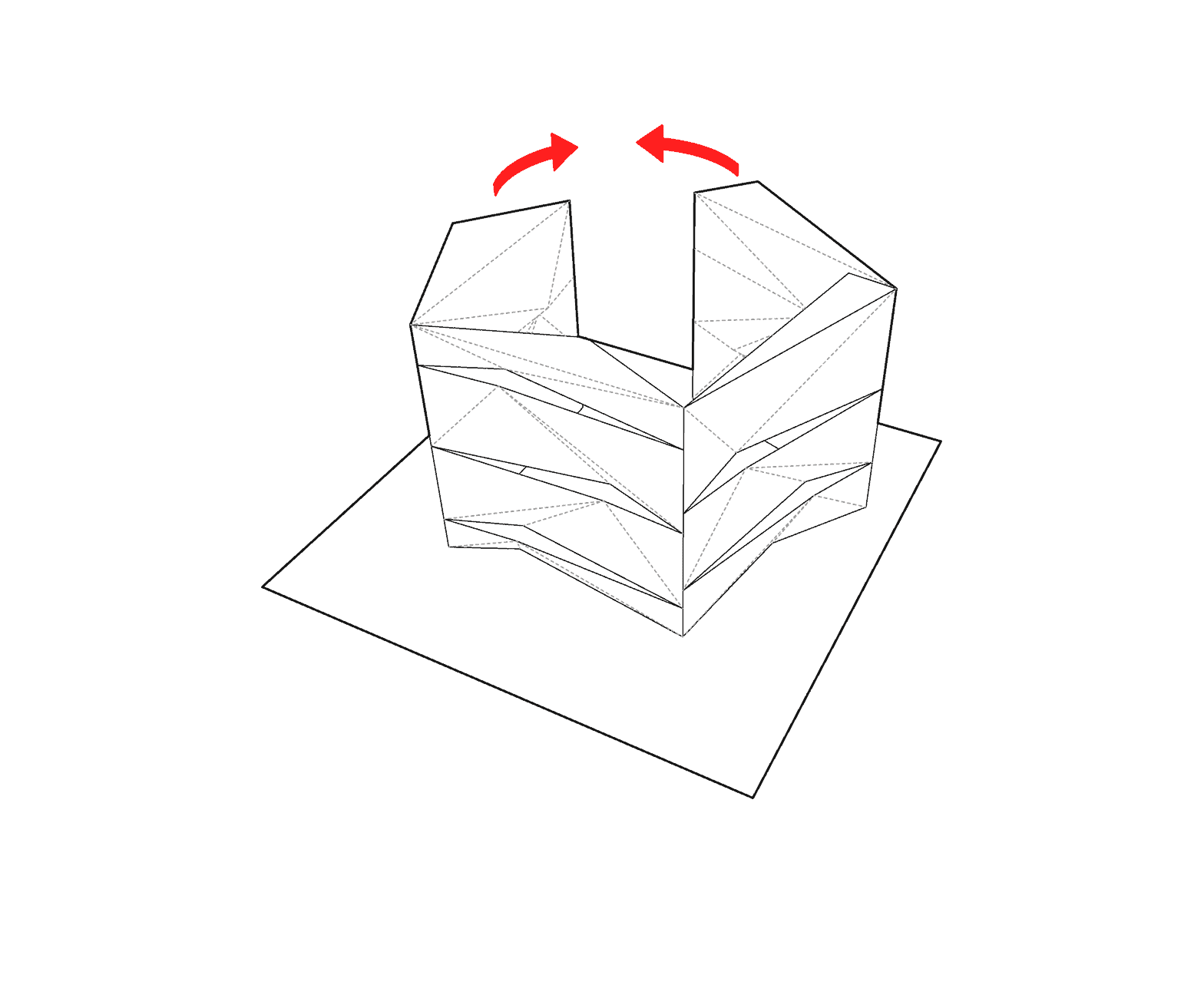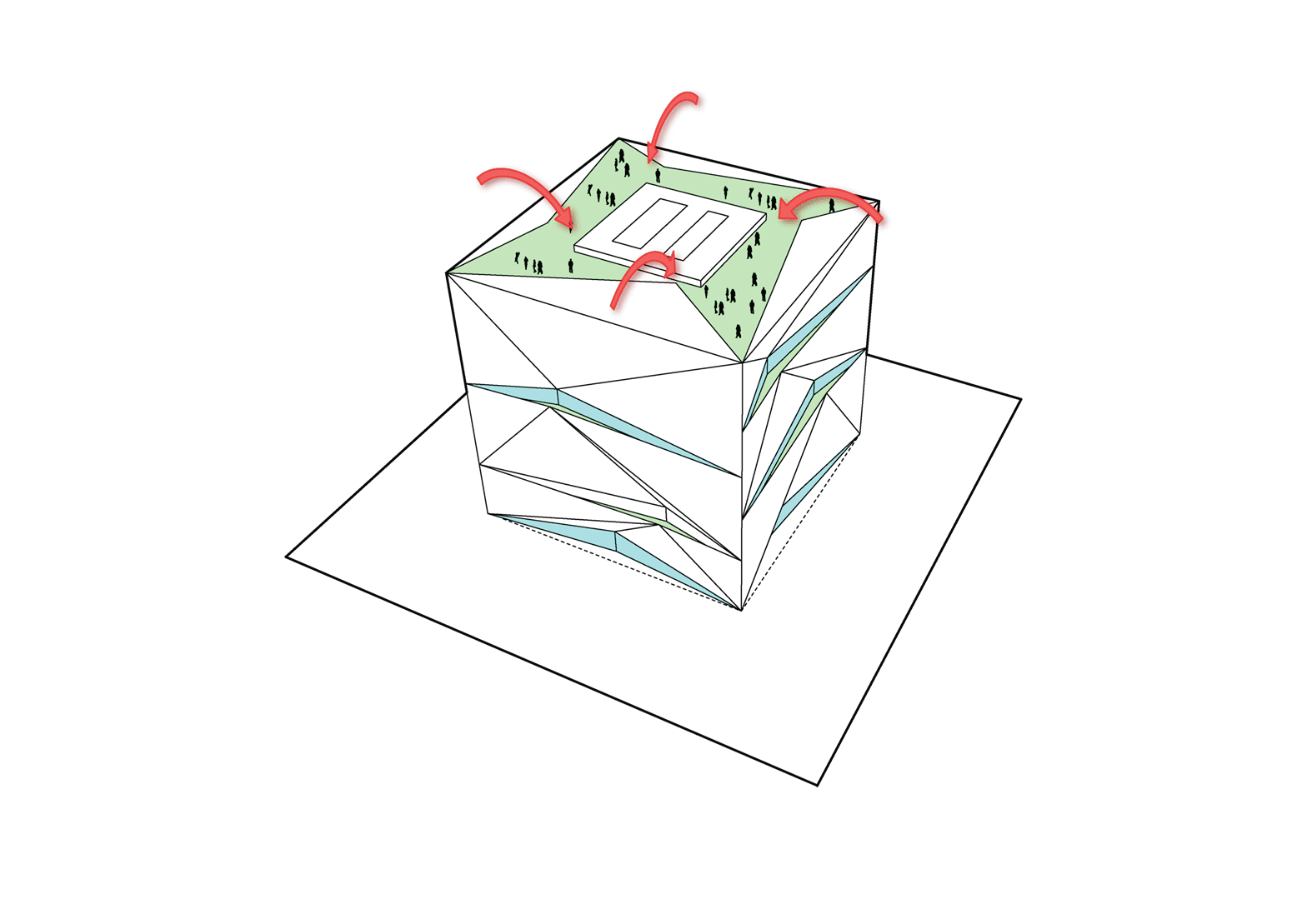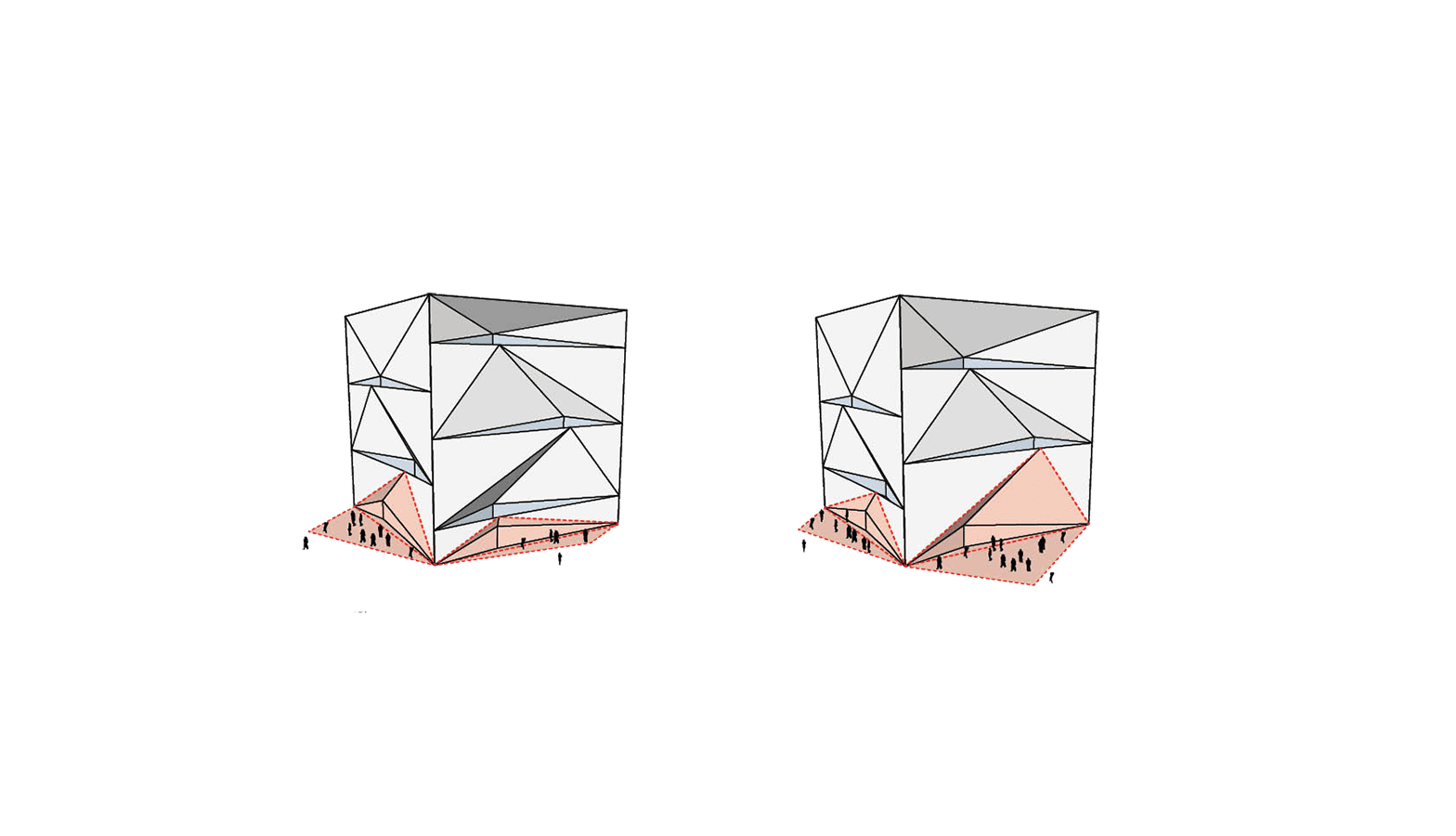 Unique Facades in All Directions
The building offers varying reflective views and takes on a dynamic appearance due to a very dynamic use of facade elements.
All sides of the building has its own distinct appearance. Though it looks extremely complex, the layered facade is, in fact, made up by only 12 different glass elements which are distributed in different combinations across the building and in both layers. The layering of the two facades creates reflections which offer a kaleidoscopic reading of the surroundings and creates the opportunity for generous platforms on the facade. These platforms are horizontally and vertically distributed around the building, such that the facade changes dynamically and all views of the building are unique.
Integrated Energy Concept
The innovative energy concept in integrated into the design from the beginning and has impacted the manner in which we have designed the facade.
The overall compact building massing and effective façade to floor area ratio allows for a 100 % glazed façade. The ventilated double skin façade offers high performance as a daylight provider and at the same time provides for a very effective protection against heat gains while allowing the users to benefit from natural ventilation. The façade enters an overall high/low tech energy management system based on energy displacement that transfer energy surplus i.e. heat in one area into cooling in another.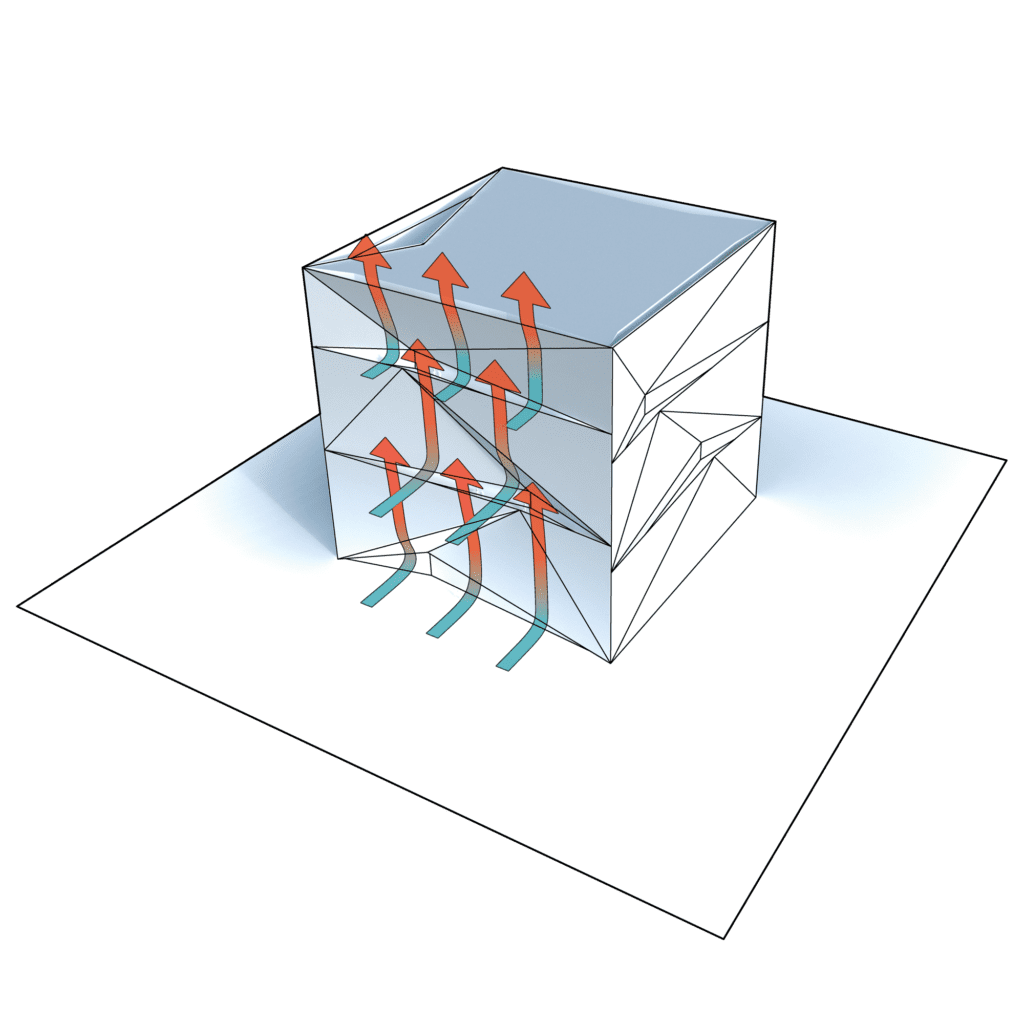 Robustness Through Porosity
cube berlin is designed to be a social experience and to meet future demands for more dynamic work place constellations
Thanks to a greatly enhanced flexibility in in plans, the building is geared to accommodate temporary project structures, shifting tenants, satellite offices, growing and shrinking staff numbers, new collaboration patterns and communication, knowledge sharing and external networking. A structure of possible connections between floors and subdivision of levels makes the building very porous and allows for a mix of small, medium and larger units that expand over more floors or occupy only parts of one level.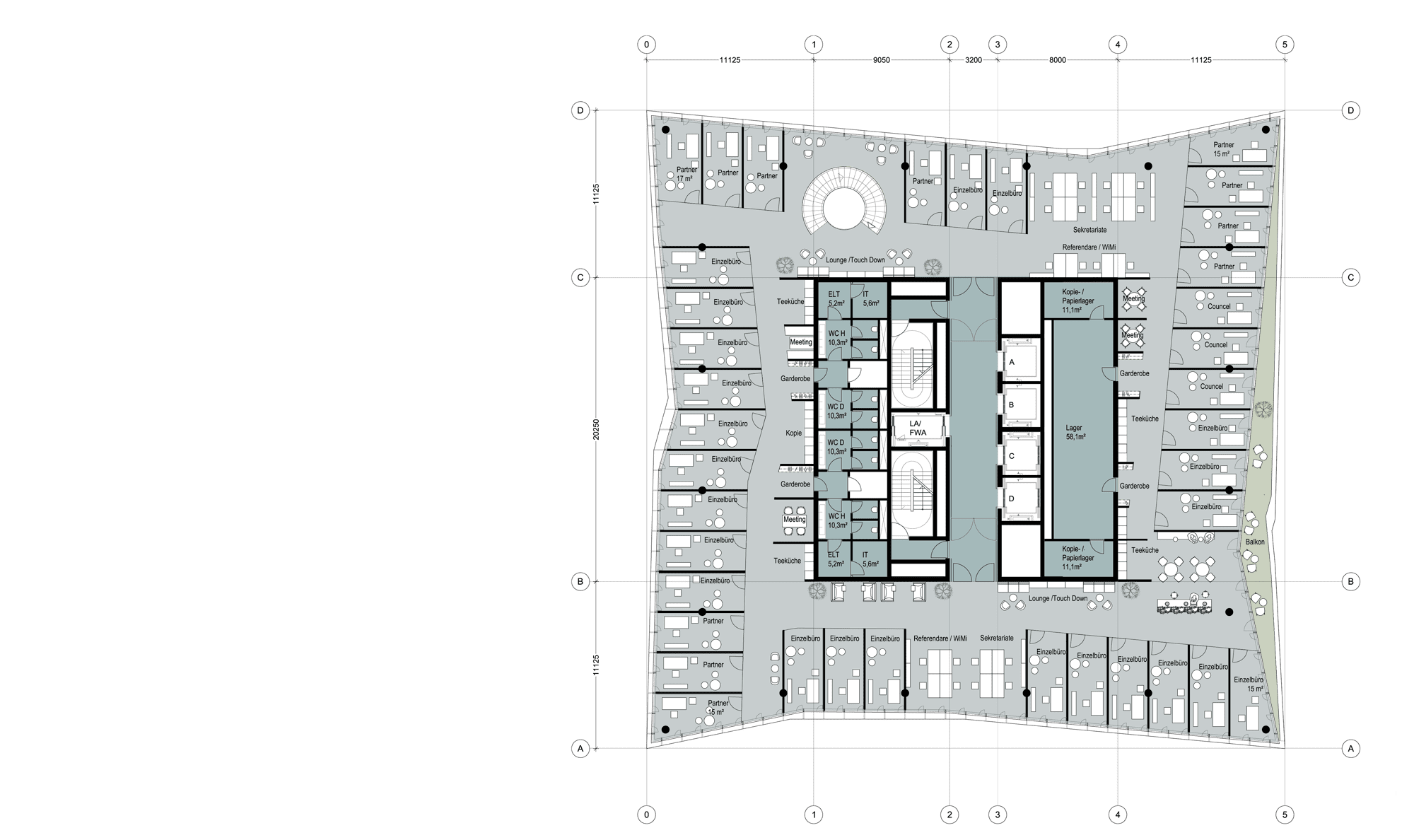 In addition, as a smart building, Cube Berlin plans to set a new standard – intelligent building systems will recognize and adjust to users' needs and desires throughout the building.