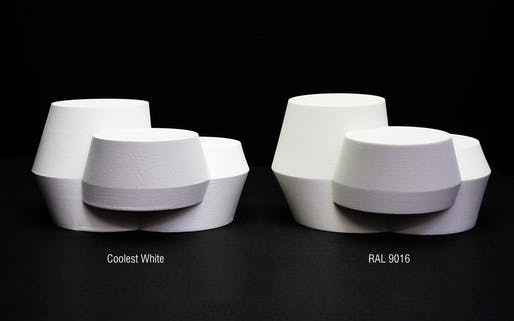 UNStudio's "The Coolest White" paint comparison
UNStudio is known for their groundbreaking work in solution driven designs relating to the ever-changing urban environment. Climate is changing, which leaves architects and designers taking steps towards designing buildings and structures that can accommodate to the overheated urban environment. Intense heating and other weather conditions like rain and dust generate a lot of stress and strain on the exteriors of many buildings. Thirty to forty years ago, these types of conditions were not necessarily a priority. However, with the environmental conditions of today firms like UNStudio are taking a different approach to future building design. According to the studio's principal and founder Ben van Berkel, "designing with the future in mind also means buildings last longer in the face of environmental change. That they are more resilient to change and they endure environmental strain."
Theatre de Stoep in Spijkenisse
Beyond the design process, materials play a huge role in a build's feasibility and structural reality. In collaboration with Monopol Colors, UNStudio has developed an ultra-durable paint that protects buildings and structures from absorbing excessive amounts of solar radiation. The urban heat island effect is an issue that is often overlooked. Many buildings and structures are built using dark building materials. Named "The Coolest White" this paint is made using fluoropolymer technology which has a multilayered coating system that was developed specifically for structures and facade elements made from aluminum, steel, fiberglass, and other metallic materials.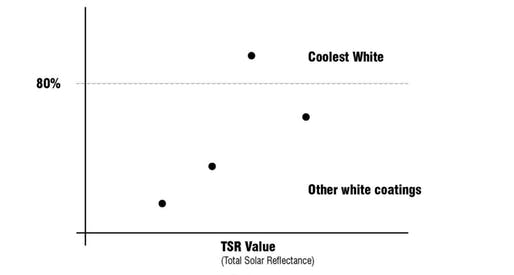 Solar resistance levels of white paint coatings
"The Coolest White is a coating system with very high total solar reflectance (TSR), which ensures the substrate heats up less and radiates less heat. Thus this innovation actively fights against the urban heat island effect by reducing the temperature inside and outside of buildings." The high abrasion resistant paint also allows for buildings to last longer with increased resilience to heat, as well as wind and rain. This new paint technology can not solve every obstacle relating to designing resilient buildings. However, UNStudio's approach and application is the step needed towards progressive structural design through material study.
(Source: www.archinect.com)