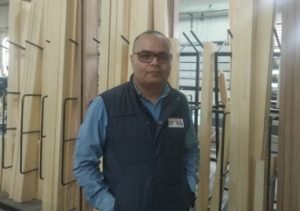 Getting into a factory model for a solution that has inherently been a carpenter's forte was never going to be easy. But that's exactly the challenge that Mr.Vivekabhilash Sharma, Director, Artius Interior Products, took up. 'I needed window systems for my house that was under construction. I have always had a liking to wood. But finding the solution in wood was almost impossible. And I was not interested in relying upon the carpenters, whose output will never be standardised.', says Mr.Sharma.
As luck would have it, he ended-up visiting one of the world's largest fairs on wood processing – LIGNA in Hannover, Germany. It was a chanced visit, as Mr.Sharma was in Hannover for some other work. Things started falling in place. Not only did he make a solution for his own house, but also gave many others with the same taste to get a solution at much smaller the effort than he himself put in! Of course, Artius had it's fair share of challenges. But today, with presence across India, the company continues to excite the Architects & Interior Designers with it's innovative door and window-system solutions in solid wood.
For a detailed read on an exclusive interaction with Mr.Vivekabhilash Sharma, click here.