Kitchen is not just a place to cook; it is a place which adds to the overall décor of your home and hence has to be designed in a special way. So while designing your kitchen you need to be in line with the latest industry trends. Here are the top emerging trends in the kitchen space for 2017.
Going Green – With eco-friendly things gaining traction among home owners, it is only fair for people to ask for kitchen that promotes good health and gives them warmth of nature. Use of rustic natural wood, recyclable materials in countertops, tables, sinks etc. is a big trend this year.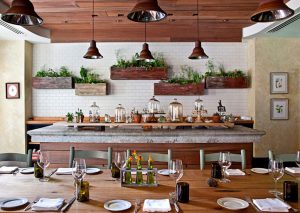 Mixing elements– Mixing and matching of cabinetry colours – combo of light and dark, mixing wood countertops with quartz, or combining rough interiors with smooth exteriors in cabinets; all give a unique look to the kitchen and accentuate its design language, making it a hit in 2017.
Using Gold – Gold and rose gold hardware & faucets are dominating most of the kitchens this year. Besides giving an elegant look to the kitchen, it gives natural & earthy warmth to the interiors. Gold works well with most of the cabinet colours & finishes which is further enhancing its popularity.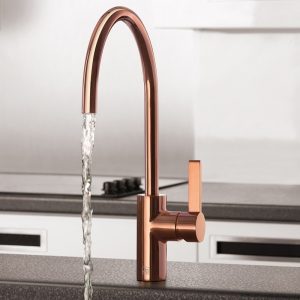 Factory Design – Popular in European countries, this style has grown steadily in recent years. The trend is still going strong amongst the more experimental and creative class. This design is based on philosophy of exposing the otherwise hidden things in a kitchen – bricks, concrete, pipes, metals and even appliances and is inspired by the typical factory set up.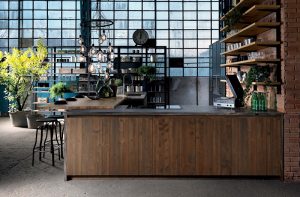 Lighting and Technology – Use of energy saving LED lights under the kitchen cabinets and counters is another trend that is gaining traction. Lighting has come a long way from being an after-thought to the key element in the entire kitchen design that integrates effortlessly into the basic design of the kitchen. Besides creating a great ambiance, it offers great comfort and convenience to the users. Not just lights, but use of technologically advanced products like foot operated kitchen faucets, appliances with Bluetooth functionality that can be controlled by apps, is fast gaining entry into the modern kitchen; making the kitchens truly smart.
Grey-white tones and high contrast combos– Various shades of grey and white are getting immensely popular this season. Whether it's entire cabinets, countertops or appliances, different shades of grey and white are dominating the kitchens. Another emerging trend is the use of high contrast cabinets to give a sophisticated look to the kitchen.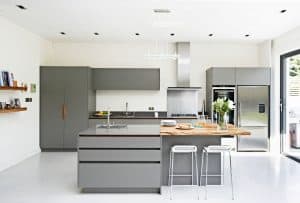 Intelligent designs – One clear emerging trend is the intelligent designing in kitchens. This includes creating more visual space and adding functional convenience by minimizing the upper cabinets, placing all appliances at one place, making things more accessible for users or deploying smart storage solutions.
(Credit: housebeautiful.co.uk, kitchendesigns.com, houzz.co.nz, pinterest)