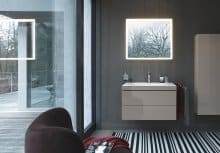 Duravit products continue to be exemplary for good design in the company's 200th year.
Duravit always focuses on technology that is used intelligently, the highest quality requirements and good design, and yet again this year its outstanding design credentials have been honoured with numerous awards. Early this year, the products of the P3 Comforts range and c-bonded technology were the recipients of the Red Dot Product Design Award 2017. The toilet from the Darling New range featuring Rimless flushing technology and the SensoWash Slim shower-toilet seat, along with the c-bonded technology, were honoured with the iF Award.
With P3 Comforts, designed by Phoenix Design, Duravit has implemented a modern concept of comfort. Simple geometric forms have been modified to render them aesthetically calming. In this way, the range blends perfectly naturally into our living environment.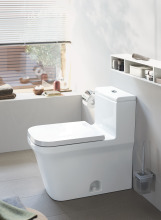 To meet the highest design requirements in the bathroom, Duravit has developed an innovative method that is a true one-off; it involves connecting the ceramic furniture washbasin to the surface of the vanity unit to create a perfect whole. This completely new look produces an exceptional washing area. For the first time, Duravit has used c-bonded technology with the Darling New designer series and the L-Cube furniture programme.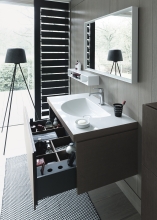 Darling New is a design classic within the Duravit programme. It features harmonious circles and delicate edges and was developed in collaboration with sieger design. The highlight of the series is the wall-mounted toilet in combination with the SensoWash® Slim shower-toilet seat and Rimless® technology. Thanks to their balanced proportions, the extremely flat shower-toilet seats are difficult to distinguish from a classical toilet. A streamlined and more economical shower-toilet variant, the SensoWash® Slim model makes hygienic comfort available to a broader public. The open design of the flushing rim resulting from the rimless technology offers additional convenience and optimum flushing results with just 4.5 litres of water. Since 2016 the wall-mounted toilet has been available with a 57-cm projection.
"Over 160 design awards since the start of the 1990s are an important and powerful symbol of the international appreciation of our work." says CEO, Dr. Frank Richter. "Duravit has a precisely formulated and recognisable design language that is unique, and which is clearly based on fundamental archetypal forms. We are contemporary without being trendy, more straightforward than opulent, and always timeless – and that is what is necessary for lasting success."