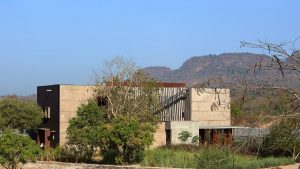 A weathered steel roof slopes over the gravelled courtyard at the centre of this concrete house in western India, which architect Samira Rathod has designed to offer residents plenty of shade from the sun.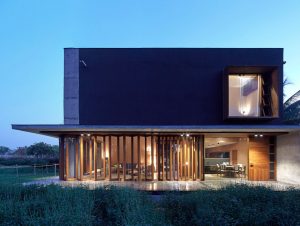 The Shadow House is located in Alibaug, a coastal town located south of Mumbai in the Indian state of Maharashtra.
Mumbai-based architect Samira Rathod wrapped the 5,000-square-foot residence around a central yard, partially covered by a Corten steel roof that slopes downwards with a slight overhang.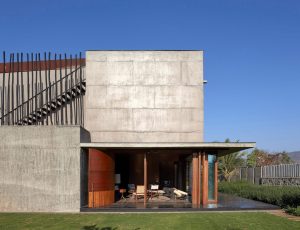 This layout, which references traditional courtyard houses in southern India, aims to offer shelter from the hot sun and aids air flow for ventilation.
"In that scorching heat, there was only one desire – to be lulled back into that familiar dark, cold, calmness," Rathod said.
"The courtyard house of southern India does this well, with its overarching low slung roofs and a central courtyard around which the rooms surround."
The exterior of the house features thick concrete walls, which are pigmented red on the southern side to absorb more light.
While there are few openings on the exterior, filtered natural light is brought in by the large expanse of windows facing the courtyard.
The babel tree planted at the centre of the gravel square is also intended to grow to offer extra shade. At full bloom, the architect said that the tree will "suffuse the house with its blazing fragrance and a confetti of tiny white flowers every morning".
In one corner, on the southern side, the yard opens to an outdoor plunge pool with a spout providing a constant flow of water.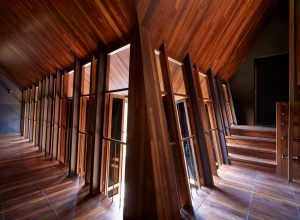 On the ground floor, a bedroom and en-suite bathroom occupy a block on one side of the yard, while the kitchen and informal dining area, a second dining room and a lounge is placed in the other.
The double-height lounge, which features a large skylight, is enclosed by a set of bifold doors that open fully to the garden on the northern, cooler side of the house. Inside, one of the concrete walls remains exposed, while the others are painted brown.
A staircase from the courtyard leads to the first floor, where a walkway cantilevers over part of the outdoor space. A series of thin shutters, described as like piano keys, creates dappled lighting on the wooden interior.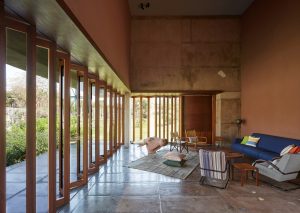 "The house is designed like a sieve through which light filtered, dappled and draped into its hollows," said the architect.
"The living experience is designed to be gentle; dark, quiet and erotic, with its hierarchy of volumes and spatial textures."
The walkway links a further two bedrooms with en-suite bathrooms placed at either end of the floor. A skylit shower features in one of the bathrooms, while a concrete wall is complemented by a mix of light and dark wood.
Across the residence, the floors are covered with handmade concrete tiles, some of which are pigmented with wavy stripes in red hues.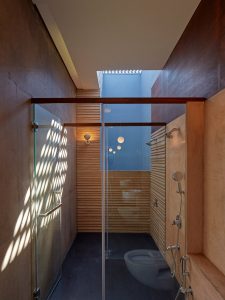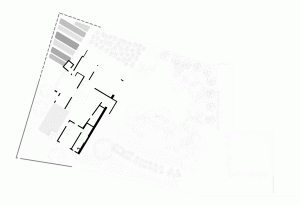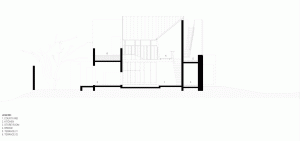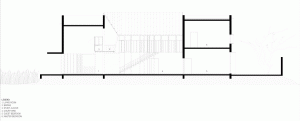 (Source: www.dezeen.com)