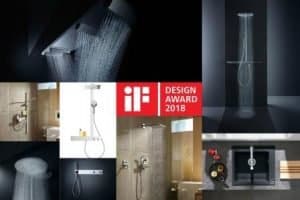 Highest recognition for outstanding design achievements: a total of nine products by the AXOR and hansgrohe brands of the Hansgrohe Group have been distinguished with the iF Award 2018. The Black Forest bathroom and kitchen specialist currently holds sixth place in the iF ranking, making it the highest-ranking company in the sanitation industry. The Hansgrohe Group outperformed some 2,000 listed companies, ahead of prominent brand names such as Audi, BMW and Apple. An international jury of 63 experts evaluated 6,400 product entries from 54 countries in categories including quality of design, workmanship, degree of innovation, environmental compatibility and functionality.
"We are very pleased at having again been distinguished with a shower of iF DESIGN awards, and view this as a validation of our design philosophy. In collaboration with prestigious designers, we focus on delivering products of the highest quality, on successful product design and above all, on creating optimal customer value," Jan Heisterhagen, Vice President Product Management, Hansgrohe SE says. "Innovations, such as our intuitive Select technology or our new high performance PowderRain spray make both showering and controlling the flow of water a true experience. Today, we are one of the leading trendsetters in bathroom and kitchen design, a fact also reflected by our position in the iF ranking."
Nine awards for innovative products
Together, AXOR and hansgrohe, the two brands of the Hansgrohe Group, received nine awards from the International Forum Design (iF). Three of AXOR's award-winning products belong to its new high-end shower collection – the AXOR ShowerHeaven 1200, the AXOR Showerpipe 800 and the AXOR overhead shower 350; a fourth award went to the AXOR Select thermostat. The premium brand hansgrohe won the jury over with its Raindance E overhead shower, the Raindance E Showerpipe, the Raindance E Unica shower set, the hansgrohe ShowerTablet and the hansgrohe Silicatec kitchen sink combination C51. The company will show a selection of these award-winning products at its booth at the SHK ESSEN trade fair from 6 to 9 March 2018 in Germany.
iF Design Leader in the Sanitation Industry
In the current ranking of the International Forum Design (iF) of the best companies in the world for design, the Hansgrohe Group, with its brands AXOR and hansgrohe, ranks 6th among 2,000 listed companies. The 1040 points earned by the Schiltach-based fixtures and shower specialist outperform famous brands such as Audi, BMW or Apple and reconfirm the company's leading position in the sanitation industry.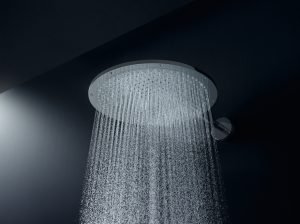 AXOR overhead shower 350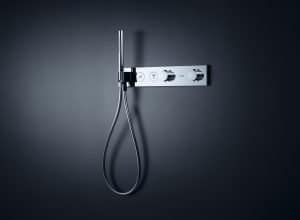 AXOR Select thermostat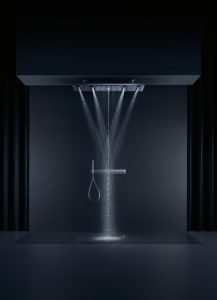 AXOR ShowerHeaven 1200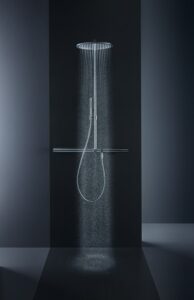 AXOR Showerpipe 800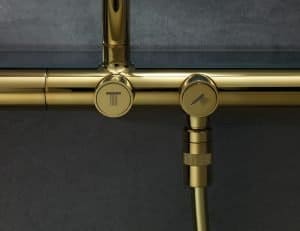 AXOR Showerpipe 800 thermostat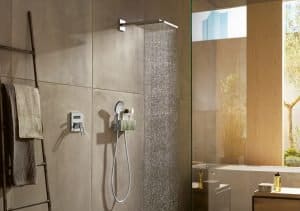 hansgrohe Raindance E over head shower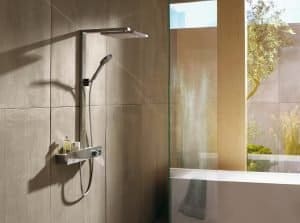 hansgrohe Raindance E showerpipe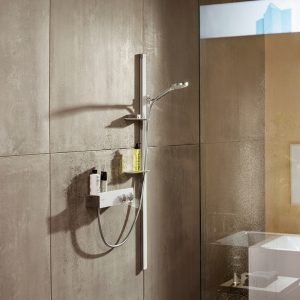 hansgrohe Raindance E Unica shower set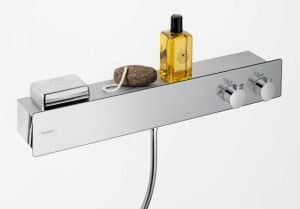 hansgrohe ShowerTablet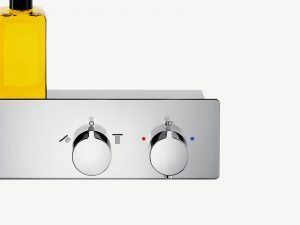 hansgrohe ShowerTablet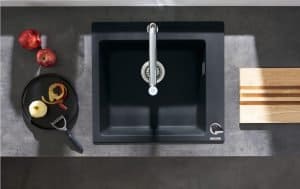 hansgrohe Silicatec kitchen sink combination C51