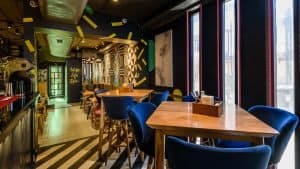 Tapping into the pulsating, dynamic and fresh youth culture – Epic is designed to bring together the vibrant potential of youth and the colourful vibe of the space – creating a visual dialogue in itself. The whole project is divided into two major moods – the first two floors are a casual, young café and the top two are more refined to serve to the club likers. The center of attraction is the youthful design of the café, whether it is the vertical circulation throughout the space, like the canary yellow helical staircase or the quirky lights instilled in the truss accentuating it. Leading the way into the Epic Kitchen N Bar, it is a place meant for zealous visitors/students in want of a pepped up experience.
DESIGNED :2017
COMPLETED :2018
TECHNICAL DATA
FIRST AND SECOND FLOOR:
• Memphis design style, extremely colourful, bold graphics , very casual
• Neon lights, various installations and signs (books , circular lights, neon wall
light installation)
• Suspended community table
• Black and white Memphis graphic language
• Double height bar with props and artwork.

THIRD FLOOR :
• Black coloured panelling and green textured paint on wall
• Typewriter wall
• Brass monolithic bar
• See through bar back
• Brass sphere installation around dj console and screen
• Cut-out in ceiling
• Glitch graphics
• Kadappa flooring with brass strip.

TERRACE :
• Half indoor – half outdoor
• Truss
• Wall panel design
• Outdoor bar
• Botanical graphics
PROJECT/ DESIGN TEAM
Ar. Abhigyan Neogi, Piyusha Upadhyay and Kanika Vohra.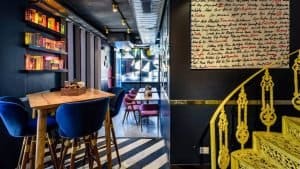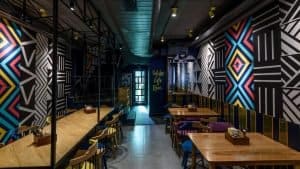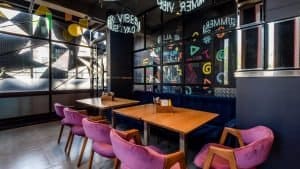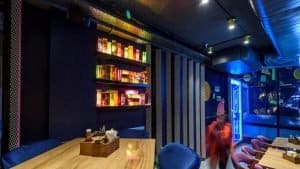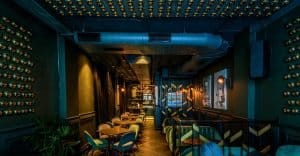 (Source: www.worldarchitecture.org)