Uber's flying taxi service — that glorious sci-fi dream — still plans to launch its first takeoffs by 2023. One major caveat, however, is that unlike regular taxis which can freely zip about the streets, uberAIR taxis need access to the sky and a place to land. That's where "Skyports" come in: special areas localized specifically for launching, landing, and customer pickup, and they're looking appropriately futuristic.
Six architecture and engineering firms have showcased their first designs for uberAIR Skyports at the Uber Elevate Summit 2018. These designs mark the first step in creating infrastructure for high-volume operations of uberAIR networks in and around cities.
"The Paw" – Gannett Fleming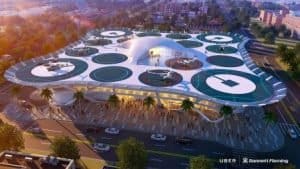 The design of Gannett Fleming includes paw-like landing platforms. The design would support 52 eVTOLS per hour and per module in a scalable framework. It could facilitate more than 600 arrivals and departures and 4,000 people per hour in 2028.
"Sky Tower" — Pickard Chilton and Arup
A single module would allow for 180 landings and takeoffs per hour, accommodating 1,800 peak passengers every hour per module. Modules could be combined both vertically and horizontally to allow the Skyport to adapt to the city landscape.
"Connect" — Corgan
Corgan's Connect is a concept designed to repair the way roads and highways have partitioned modern cities. The Skyport design could accommodate 1,000 landings per hour. The concept would coordinate with established highway networks to repurpose existing and familiar infrastructure and create new travel arteries that can accommodate the higher throughput required of mass adoption.
"Uber Hover" – Humphreys & Partners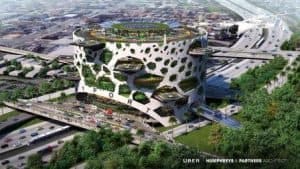 The Humphreys & Partners Skyport concept is modeled after a beehive and could accommodate 900 passengers per level and per hour. It would use sustainable materials to create an ecosystem that powers itself and gives back to the surrounding area.
"The Hive" – The Beck Group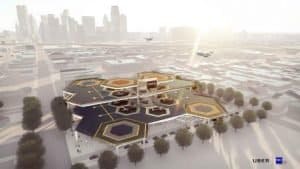 The Beck Group's Skyport is designed in a hexagonal form that can be found in hives created by honeybees. The shape is scalable and flexible to accommodate 150 takeoffs and landings per hour and could be scaled to up to 1,000 trips per hour.
"Skyport Prototype" – Boka Powell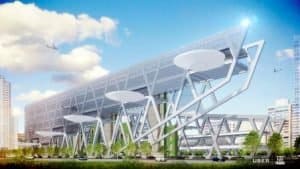 The Boka Powell Skyport could accommodate 1,000 takeoffs and landings. It could support an average takeoff of less than three minutes. The structure is flexible and allows for a reversal of the operation to accommodate wind change.
In a statement John Badalamenti, Uber's Head of Design for advanced programs and aviation, said 'while uberAIR might feel like a far away dream, it's closer than you think and urban infrastructure has to start to evolve now to keep up.' as well as calling on architects Uber has also entered into real estate partnerships with in order to aid the creation of Skyports. last fall, Uber released the first video of the uberAIR experience.
(Source: www. rotorandwing.com, www.designboom.com)