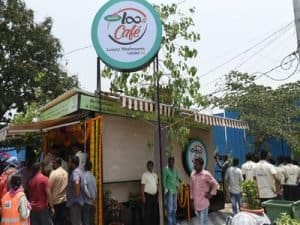 Finding a decent public washroom is one of the biggest challenges in Indian cities. A Hyderabad-based facilities management company has developed a luxury loo, which comes with a small cafetaria too, in just ₹12 lakh. While it is free for use for the people, the cafe makes money by selling snacks, coffee and tea all with a price tag of less than ₹30.
A Wi-Fi zone and centrally air-cooled space, the 'smart' Loocafe uses IoT (Internet of Things) solutions to help achieve energy and resource efficiencies. A dedicated radio channel provides music, while the cafe serves standardised food round-the-clock.
The geo-tagged cafes could easily be located using an app LooCafé Locator. The first of the 100 pre-fabricated Loocafes has been launched at Madhapur.
"We are planning to set up 100 washroom-cafes in the next six months," Abhishek Nath, founder and CEO of IXORA FM, a facilities management company, told BusinessLine. "After Hyderabad, we are planning to set up Loocafes in Mumbai, Indore, Pune, Chennai and Mohali," he said.
Built in a cozy 170 sq ft space, the space houses restrooms for men, women and to the physically challenged. "It will also have a sanitary napkin dispenser and bins, an ATM and a cafe," he said. "We don't use any concrete material in the entire space. Loo cafes are provided good ventilation and appropriate infrastructure and maintenance. It has solar panel facility and an overhead tank with a capacity of 1,000 litres."
The Greater Hyderabad Municipal Corporation (GHMC) will help the firm find the right locations to set up the Loocafes in the city limits.
(Source: www. thehindubusinessline.com)