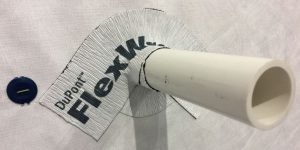 DuPont Performance Building Solutions announced that its DuPont™ FlexWrap™ EZsolution was named a winner of The Best of PCBC: 2018 Parade Of Products, an awards program designed to honour outstanding achievements in innovation and new product development at the Pacific Coast Builders Conference (PCBC), that took place in San Francisco June 27-28, 2018.
Nine award winners were chosen for the 2018 program by a panel of industry judges including expert engineers, designers, product curators and architects, and were rated according to solution base, innovation, practical application and design.
Introduced to the U.S. market in March 2018, DuPont™ FlexWrap™ EZ is a part of a complete DuPont™ Tyvek® Building Envelope Solutions portfolio to protect the entire building against air and water intrusion. DuPont™ FlexWrap™ EZ, a flexible and versatile self-adhered flashing tape, is uniquely designed in a 2 ¾ -inch wide by 15-feet length roll to seal around small exterior penetrations of all different shapes and sizes. It is a fast and easy solution to reduce the opportunity for air leakage throughout the building envelope and to help improve the durability and energy efficiency of a wall system.
Being selected as a winner of The Best of PCBC: 2018 Parade of Products is a testament to the ease of use, flexibility and versatility of the DuPont™ FlexWrap™ EZ product solution," said Alan Hubbell, residential market manager, Performance Building Solutions, DuPont Safety & Construction. "We're honored to receive this industry recognition and are excited to continue delivering innovative products to our customers."