With an innovative range of kitchen solutions on offer, Saviesa is fast gaining ground across India. Identifying, understanding, and addressing the unmet needs of the Indian kitchen accessories market is a clear focus of Mr.Rajesh T.Ahuja,Managing Director, Saviesa. An exclusive interaction with buildingandinteriors.com:
B&I: How do you see the accessories market for kitchens and furniture in India today?
RTA: In the past, accessories (read: storage solutions) for kitchens were mostly the steel wire baskets. Over the last decade, the trend is clearly shifting from wire baskets to double skin runner systems. These drawers have internal organisers, which are great for organising the forks, knives, spoons, etc. and the utensils in a neat, systematic fashion. But it is important to understand how to design these internal organisers to systematically store various kinds and shapes of kitchen stuff.
B&I: What solutions are you offering under the kitchen accessories range of Saviesa?
RTA: We have a wide range of accessories to suit every budget and requirement. Wire baskets in SS 304 and 202 grades of stainless steel are very popular. Recently, we launched our one-of-a-kind range of internal drawer organisers called SavvyTech. They are designed for all major brand of runner systems like Blum, Grass and Hettich. These are designed in SS 304 and beechwood.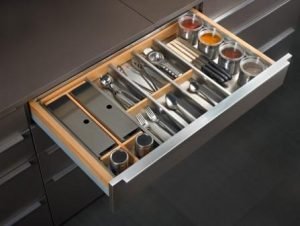 B&I: How do these solutions compare to the existing solutions available in the market?
RTA: SavvyTech was designed after a thorough research into the Indian cooking habits and their unique requirements. It marries the needs of the Indian consumer with European design trends. The SavvyTech range is unique in its design, quality and price and there is nothing available in comparison in the market.
B&I: Which are the geographies across India that you are looking at for the accessories business? How many distributors do you expect to clock by the end of the current financial?
RTA: We are looking at selling our accessories range in all the major cities in India.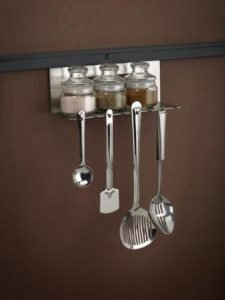 B&I: How many OEMs in the Kitchen and Furniture industry are you targetting this year?
RTA: Our target is to get around 10-12 OEMs this year.
B&I: What is Saviesa's USP for the OEMs in India?
RTA: Our value proposition is completely on making the buying and planning experience of the customer an absolutely satisfying one; for that we have invested money, time and expertise to create 3 unique innovations:
DreamViewer
The App shows you how your kitchen will look in a shape and size as close to your kitchen. It will also tell you the approximate cost and how the cost will change based on the different options you select.
DreamBuilder
With this App you can see all the options available as per your need and preferences. Unlike a catalogue, you can actually see how the options function through interesting videos. The App captures all your choices and prepares a detailed design brief, which the designer works on to make a perfect kitchen.
DreamPlayer
With this unique projection system you can visualise your kitchen in lifesize and in 3D. With DreamPlayer, we help you achieve a beautifully co-ordinated kitchen, where the wall colour, shutters of the upper and lower cabinets, countertop and skirting complement each other.
The SavvyTech range is our frontrunner in accessories and has already received immense recognition in the market.