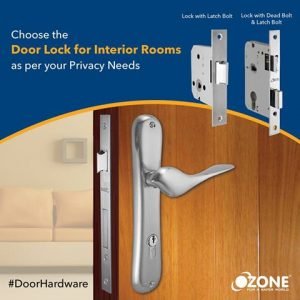 Our internal room door may not have to deliver as robust security as main door. Internal room doors are meant to provide effective privacy, and security when needed, whereas main door needs to be robustly secured all the time. It is important to consider the door type i.e. where it is applied, while deciding on a locking device. Usually users apply same type of lock such as mortise lock body on all doors be it internal room door or main door.
Ozone offers the right door security solutions base on the user requirement. Choose a mortise Lock body with stainless steel latch & dead bolt to withstand any kind of physical attack, in case of Manual Key operated Locks. It is advisable to choose Digital Locks for keyless convenience and robust security.
Click here to explore the Ozone range of Door Locks or email ozone@ozone-india.com
Log in
or
Register
to save this content for later.