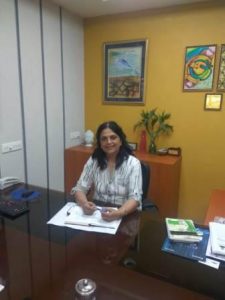 With an active architectural practice spanning over 25 years and still going strong, Ar.Madhu Garg of Creative Consortium has handled projects ranging from boutique houses to high-rise apartments to commercial buildings. Affordable housing happens to be one of her favourite areas. 'Affordable housing is nobody's baby.', is how Ar.Madhu Garg puts it simply. In an exclusive discussion with buildingandinteriors.com, she talks about various facets of affordable housing and the dynamics of such projects.
'The whole ecosystem around the very thought of affordable housing needs to change. Be it the Architects, Developers, Executing Agencies or the Suppliers, we need to be sensitive to the profile of the people who are going to inhabit these housing units.', says Ar.Madhu Garg. She feels strongly on the need to use the concepts of sustainability in affordable housing, something which not only reduces the costs of making such buildings but also is sensitive to the pocket of those who would be residing there. Things like natural light, natural air supply and regenerating the resources assume great importance in affordable housing projects in our country.
For the full interview with Ar.Madhu Garg, click here.